Six Hundred Sixty Six Bottles of Blood on the Wall: A Drabble Contest


How goes the writing? Hopefully well! I took a rejection the other day, and it wasn't a very nice one. I won't go into details, but it was personalized, and the editor was kind of a dick. I didn't expect the story to sell anyway, I was submitting WAY outside my normal market but this experience makes me really appreciate the tact displayed by that the vast majority of presses and editors I've dealt with in both personalized and form rejections. I got a good laugh out of it. If that's what I can expect when submitting to "literary" markets, I think I'll stick with horror for a while, probably the rest of my life. Don't ask who it was, I'm not going to tell you.
I hope some of you got better news than me, but I digress.
Last week I talked about The Loop and before that I wrote about rejection. This week I'm going to take a little break from talking about writing and I'm going to make you an offer. I'm going to encourage you to get some writing done and to share it with myself and HorrorTree.
I get questions sometimes about writing and how to do it and how to get started. I'll cover my thoughts on this later on down the line. This week, I'm going to CHALLENGE YOU to write a story.
Are you familiar with a Drabble? A Drabble is an extremely short piece of fiction. It is composed of 100 words EXACTLY. Not 98, not 105, 100. This does not include the title or the author contact information. You get 100 words to write the text of your story. I know it doesn't sound like much, but try it, you can do a lot with just 100 words.
Here is an example of a Drabble:
Say Goodnight
By Kerry G.S. Lipp
Every now and then when I'm lying in bed, my brain starts doing weird shit like asking, "What happens when you die?"
It leaves me speechless every time. Of all the things me and my brain have been through it just never seems satisfied.
"But what do you think happens?" it asks again.
"Like I told you before, how the hell am I supposed to know?" I answer.
"But, I'm curious," my brain asks.
"Fine," I say and reach for the pistol I keep in the night stand. I rack the slide and switch off the safety.
"Let's find out."
I want you to write one and I want you to send it to me. This is a perfect time to host this contest, hot on the heels of rejection and The Loop, I'm going to do my best to use both to help you out as a writer.
Here's the deal. You must write a Drabble, exactly 100 words. It must be a horror story and it must involve trees or nature in some form. From the clichés of the deep dark woods to a golf course development team chainsawing through hippies handcuffed around a tree to free up space for the 18th hole, and anything in between. It's a wide spectrum. Make it yours.
Hopefully you're smart enough to realize that the theme is derivative of the website that is nice enough to host this contest.
This is what we're offering you. The top three Drabbles will be published on HorrorTree. This is an excellent opportunity to write a new story, get some feedback (I will personally respond to all submissions unless I get an absolute shit load) and get your name out there. For those of you that don't make the cut, I'll do my best to take my own advice and be supportive and polite with the rejections. This will be a challenge for myself as well and I'm excited, not to crush dreams, but to try something new.
Also, for those of you struggling to get started, a Drabble, though short, WILL give you a sense of accomplishment. You've written a story, and you might realize that it's decent and think, "I wonder if I could elaborate on this and turn it into a short story." This has worked for me and I hope it can work for you.
You may also fall in love with this super short form and it is fairly popular. There is a market for this type of fiction.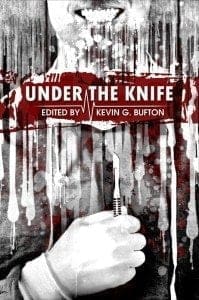 In addition to the top three being published on HorrorTree, for the first place winner, I will dig deep into my barren bank account, pray my overdraft protection is still in place and not maxed out and I'll buy you a Kindle version of Under the Knife a medical themed horror anthology that I happen to have a story in. And it will be hot off the presses with a bunch of great stories by a bunch of writers. Some of them might even be better than me.
Think of this as a thank you from myself to you for reading this blog and a thank you from HorrorTree for the traffic y'all provide for the website while taking advantage of the stellar job that it does.
So!
Go write your Drabble and send it to [email protected]. (If you send it anywhere else it will be deleted, unread. I don't want to flood my personal email with submissions) Please attach the story in a .doc file and also include the story in the body of your email. I've never done this before and I don't know which way will work better. Make sure it is EXACTLY 100 words, title and author info not included. Make sure it follows the theme. And make sure you get it to me by the midnight between the Wednesday and Thursday of next week. That would be the midnight between March 20 and March 21. Please send only one story, I know they're short, but until I have an idea what the volume will be, I'd like to limit to one entry per writer.
Any questions can also be directed to [email protected].
The number of submissions and how Stuart and I decide to do the judging will determine when the winners will be announced. Probably a couple weeks. We shall see.
THANK YOU ALL for reading Six Hundred Sixty Six Bottles of Blood on the Wall and for using HorrorTree to find places to submit your stories.
Good luck and happy writing.
Let's have some fun!
Keep reading, keep writing, and keep it real,
KGSL
About the Author
Latest Posts
Kerry G.S. Lipp is a wannabe writer working hard to drop the wanna be part. He teaches English at a community college by evening and works as a civilian on a military base by night, and usually sleeps during the day. He's not a big fan of the sun. His stories are currently available in the anthologies Lucha Gore and Under The Knife and several more will follow in 2013. His parents have started reading his stories and it appears that he is now out of the will. Follow him on Twitter @kerrylipp. You can read his short 'Smoke' at SNM Magazine.