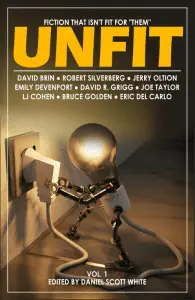 Payment: $.12/word.
NOTE: This publication has raised its rates from a previous .03/word
We want stories that are well written, intelligent, and enjoyable to read. We are looking for stories with metaphors and emotional ambiance and imaginative descriptive writing.
Unfit Magazine is about science fiction…unfitmag.com
Unreal Magazine is about fantasy…unrealmag.com
After you finish the submission form, we will contact you if we're interested in publishing your material. Due to the volume of submissions we receive, we are unable to respond unless a story is accepted for publication. If you have not heard from us in thirty days, assume your work didn't fit with what we needed at the time.
For best results, send your story to as many publications as possible. Just remember, "Simultaneous submissions are your friend."
We wish you the best in your endeavors as an author.
Sincerely,
The Boss (and a few other clowns)
---
Submission Guidelines
Fiction: 500 to 5,000 words
Pay: We pay $.12/word for fiction. For nonfiction, we pay $.01/word. Reprints are paid at $.01/word. Payments are only made to your PayPal account.
Terms: We don't charge for submissions. Reprints are welcome. Simultaneous submissions are most certainly welcome. Multiple submissions are not welcome. (If you don't hear anything, wait 30 days before trying again. Thanks!)
Rights: We are looking for one time non-exclusive rights for reprints. For originals, we need 1 year exclusivity.
---
Story submissions are available at the Thinkerbeat Reader website.
Via: Unfit Magazine.