June 2020 Giveaway – Digital Copies Of 'Devil Dragon'!
ENTER TO WIN A DIGITAL COPY OF DEVIL DRAGON
This contest is running from June 12th – June 26th, 2020.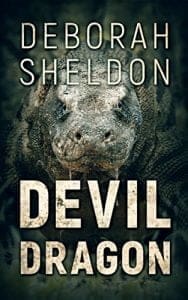 The Horror Tree is giving away TEN ebook copies of Deborah Sheldon's creature-horror novel, which was nominated for the "Best Horror Novel" Australian Shadows Award.
Dr Erin Harris may be a scientist, but she has an unscientific obsession: to find a living Varanus priscus. Cryptozoologists call it the Devil dragon. This giant Australian reptile went extinct some 12,000 years ago but like Bigfoot or Nessie, there are occasional sightings. Spurred by a credible witness, Erin cobbles together an expedition party consisting of herself, the witness, and his deer-hunting neighbours. They travel into the unexplored heart of a remote national park. Erin, believing the Devil dragon to be a larger version of the Komodo, is confident she can outwit a specimen. However, the terrifying monster that lumbers out of the bush is a savage and unpredictable predator the size of a campervan. To escape, Erin must transform herself from genteel university lecturer to hard-core survivalist.
AUTHOR BIO

Deborah Sheldon is an award-winning author from Melbourne, Australia. She writes short stories, novellas and novels across the darker spectrum of horror, crime and noir. Some of her titles include the novels Body Farm Z, Contrition and Devil Dragon; novella Thylacines; and collections Figments and Fragments: Dark Stories and the award-winning Perfect Little Stitches and Other Stories. Upcoming is her anthology Spawn: Weird Horror Tales About Pregnancy, Birth and Babies. Deb's work has been shortlisted for numerous Aurealis and Australian Shadows Awards, long-listed for a Bram Stoker, and included in various "best of" anthologies. Additional credits include TV scripts such as Neighbours, feature articles, non-fiction books, stage plays and award-winning medical writing. Visit at http://deborahsheldon.wordpress.com
Enter To Win Below!
About the Author
Latest Posts
Stuart Conover is a father, husband, published author, blogger, geek, entrepreneur, horror fanatic, and runs a few websites including Horror Tree!