'Full Bleed' Is Coming To Kickstarter And Might Be Of Interest To You!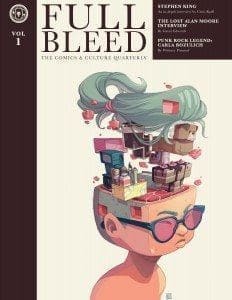 I don't usually post about Kicksters but I felt this one could be of interest. 'Full Bleed' is a new quarterly magazine brought by a new division of IDW which will have a focus on the creative community. They'll obviously be primarily checking out some of the bigger names out there and might give some unique perspective and insight to how they work. I thought it was interesting enough to share all of the details with you!
You can check out the full press release below:
IDW Publishing's Dirk Wood announced the first project to come out of the publisher's new Portland office and WOODWORKS imprint to a packed house at Rose City Comic Con this past weekend, getting strong positive reactions for both the art and content revealed, and a unique distribution plan. Premiering today on Kickstarter is the new division's flagship publication: FULL BLEED!
FULL BLEED is a brand-new quarterly, print-only, 200-page hardcover magazine, curated and edited by IDW Publishing's Dirk Wood alongside CEO and Publisher, Ted Adams. Bringing together the very best in comics, fiction, non-fiction, in-depth interviews, opinion, history, think-pieces, and more, FULL BLEED will be a reading experience like no other. Shot through an international lens, but filtered through the unique perspective of the IDW:PDX satellite office in Portland, Oregon, FULL BLEED will tackle all aspects of the creative culture, and beyond — comics, music, film, television, fine art, photography, design, politics, and more. FULL BLEED seeks true and total diversity through its content, creators and contributors, as well as genre and format.
"IDW is always at its best when we're breaking new ground and FULL BLEED is the latest example," says Adams. "Not only is it a great magazine, but I'm also excited about the way we're launching it. We're not using Kickstarter to crowdsource funds in the usual sense, because IDW doesn't need to raise money that way. We're using Kickstarter to appeal directly to readers and, in an unprecedented and revolutionary way, we've worked it out so comic shops can order the books via Kickstarter and have them fulfilled by Diamond. We're always looking for new ways to sell our books and comics, and we won't stop until everyone on Earth with a bookshelf knows what IDW can do."
"This project is a dream come true. Working with such an amazing group of creators, on such a labor of love, is so much fun," says Wood. "If you think we've got a lot of crazy-good content lined up for the first one, just wait until you see what's coming."
FULL BLEED is the premiere publication from IDW's new Oregon-based imprint; WOODWORKS. Following the December launch, IDW & WOODWORKS will be creating a campaign to help Traveling Stories, a charity dedicated to children's literacy and "outsmarting poverty one book at a time," as well as the Comic Book Legal Defense Fund, to help with their continued work for literacy and libraries. WOODWORKS aims to make "smart books for smart people," with the hope of "helping to make a few more smart people."
FULL BLEED launches on Kickstarter today with the first volume scheduled for release in early December.
About the Author
Latest Posts
Stuart Conover is a father, husband, published author, blogger, geek, entrepreneur, horror fanatic, and runs a few websites including Horror Tree!