Finn, by Stephen King, a Scribd Original Short Story
Disclaimer: This post may contain affiliate links. If you purchase something through the links in this article, we may receive a small commission or referral fee. This happens without any additional cost to you.
Stephen King's latest story, Finn, is short, brutal and heart wrenching. Finn McMurrie is an unlucky man. As a child he was dropped on his head, lost a toe and was almost killed by lightning. His grandma promised him that one day all his bad luck would be repaid with good, but when a case of mistaken identity turns deadly, Finn wonders if that day will ever come. 
Kind-hearted, but bumbling and naive, Finn does nothing to deserve his bad luck and King plays on the reader's desire to root for an underdog. I have been a long time constant reader of King's work, and it's his characters more than his plots that always pull me in. Finn is no exception. 
The narration is well done. Kellen Boyle's narration is engaging and brings Finn McMurrie to life. At just under an hour, Finn can be finished in one long walk or commute. A content warning for scenes of torture and violence does apply. But that aside, the story is enjoyable, and even amusing in parts.
Finn is available only on Scribd, an online platform for e-books, audiobooks, art, podcasts, and more. Scribd allows authors and artists to upload their work, and for a monthly subscription fee, readers gain access to the work therein. Along with their membership, Scribd also offers "perks" such as subscriptions to CONtv + Comics, Curiosity Stream, and others.
I've only just begun to explore the catalogue, but I've already found several audiobooks that were on my to-read list. The selection is not limited to just mainstream publishers, as it seems that any author can upload their work to the platform. 
They do offer a free trial, so if you want to check out King's story, Finn, either in audiobook, or ebook format, you can do so for free.
About the Author
Latest Posts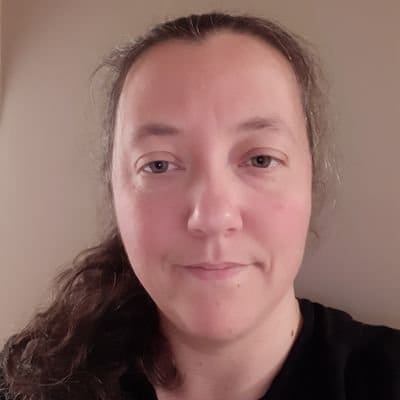 Melody lives in Ontario, Canada and writes short, dark fiction. She has been published in several anthologies and online publications. In university, she studied Ancient Greek and Roman Studies and often infuses her work with elements of Greek mythology. She also loves reading, embroidery, and martial arts. You can follow her homepage at: https://www.blog.melodyemcintyre.com/
Homepage: https://www.blog.melodyemcintyre.com/MelodyEMcintyre.com
Twitter: @evamarie41.