Taking Submissions: The Maul #1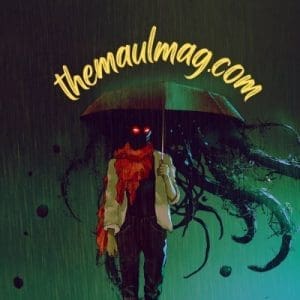 Deadline: November 30th, 2022
Payment: 8 cents per word
Theme: Horror in any genre/subgenre
***Submissions are currently open for Issue One until November 30th.***
The Maul seeks stories, comics, and art. Please see below for details on each.
Overall Guidelines for Writers
This is a magazine developed for people who are looking for horror, but either aren't quite sure where to start, or haven't found the right author. So let's talk about how to write horror and other speculative fiction for younger readers and also writing it for those looking for something different:
It has been said that if something looks like a swamp monster, walks like a swamp monster, and sounds like a swamp monster, it is indeed a swamp monster. And good writing can be a lot like a swamp monster. You know it when you see it, and it is often just misunderstood.
Here at The Maul, even though our target audience skews younger, we're really just looking for great writing. Our focus is on horror but we'll take other genres. In fact, the editors prefer stories that are a mix of genres. You're more likely to be published if you give us fantasy or sci-fi mixed with horror. We'll also take literary work, though please realize that, given our clientele and organizational goals, it can be a hard sell.
We enjoy pulp fiction. That means we look for stories that pop. Exaggeration, melodrama, and vivid imagery are encouraged. Bring us something that really jumps off the page. Be as over-the-top as you like. If you're a more subtle writer, submit anyway. Sometimes one good twist or some relatable descriptions will still catch people's eye, even the uninitiated.
Which brings us to the main guideline – your job is to initiate the uninitiated. Which doesn't mean you tone things down. It means you imagine the kind of story you would have wanted to read the first time you picked up a horror book (or serial). When you write for us, try to initiate the reader into a world you've known for years and would like others to step into it with you. Ask yourself, What do they need to know? What tropes will they instantly become aware of? What are the best things this genre has to offer? Why should they keep reading? This goes for all genres. Submit any work you feel meets this criteria.
At The Maul, we don't feel you should hold back your vocabulary. Use the big words. People are smart and can use context clues. However, we ask that you add more of those context clues. As a rule of thumb, when you write, keep your drafting process exactly the same, and then add extra narration or change to a more relatable tone when you edit for us. But we refuse to publish content that is "dumbed down." That's not what anyone is looking for.
Also, save your dated references for someone else. Our hope is that the people who read this magazine on the regular don't even know who Corey Haim is. We're all old now, accept it.
Writers of all backgrounds
We want all voices heard. Speak truth to power. Our Issue 0 published writers from the states, but also writers and artists from Greece, Nigeria, and India. If you come from a background other than the middle-class mainstream majority, tell us about it in your cover letter, especially if it relates to how you developed your story.
Writers we love and would love to see emulated
For various reasons of tone, subject matter, and writing style – Stephen King, Kristen Cashore, John Scalzi, Neil Gaiman, Roald Dahl, Louis Sachar, Alvin Schwartz, Shirley Jackson, Flannery O'Connor, Z.Z. Packer, and many, many others.
What gets rejected
Abusive or derogatory language. We'd argue that this also falls under the purview of "you know it when you see it." And of course, fine lines and such do exist with respect to offensiveness within the world of language. However, things that are typically going to be rejected outright for falling in this category include, but are not limited to
Wanton violence which does not aid a story
Abusive language, about either a specific person or a group of people
Personal attacks
Offensive language which does not aid a story
We don't want to include this on the bullets list above, because it's a legitimate genre, but splatterpunk is a non-starter for us.
And yes, you can use swear words. Kids swear, they're just smart about how they do it around adults.
Finally, a word to the wise – We abhor true crime. If you want to satirize it, fine. But for the most part, we don't generally want to see it.
Cover letters
Make your cover letter short, but give us an idea of who you are. Give us your name, the title of your story, and whether we'd be your first publication. Basically, let us know you're not a robot, or whether you're a smart enough robot to fool us. We'll publish advanced robots provided they're sophisticated enough to open, read, and transfer the check we mail them. (Truth be told, we love reading these, but don't spend too much time writing them. We take the Neil Clarke approach and read them after we read your submission)
How to submit
Right now, keeping overhead low, all submissions are through email. Be sure to place the word "Submission" in your subject line. We like something resembling the Shunn Format if possible, but we're not picky. Pasting this shit into email is tough, we know, so just do the best you can. An address helps – not only so we can brag about our submissions from all over the world, but also it tells us where we'll be mailing your check, should you be accepted. (But yeah, we also use PayPal). Place your cover letter at the top of the email body, and then copy and paste your story into the rest of the body of the email. Please don't email us an attachment. We will not open it (We're old, but we're not boomers).
We are seeking fiction between 100 and 3,000 words. Submit longer works at your own risk.
Email themaulmagazine – at – gmail.com to submit.
We are cool with simultaneous submissions. Just send us an email if you're accepted elsewhere (and congrats in advance!)
We are slightly annoyed by multiple submissions. However, if it's in that realm of microfiction (around 400 words or less), then sending two or three stories within one submission period is understandable.
Payment for fiction
We pay 8 cents per word for original fiction. We pay 2 cents per word for reprints. We purchase first world print, electronic, and audio rights.
Tips
First sentences are overrated, but still important.
Shorter stories are easier to print.
Humor and surrealism are the most subjective forms of art. Submit them, but slush readers will tell you those genres garner the most polarized responses.
Type your title and premise into Google to ensure nobody else has already written it already. We suggest doing this at the beginning or your drafting process.
Horror sells.
Grammar rules exist for a reason. It has to be clear you know the rules before you break them. "Experiment" with them at your own risk.
Comic Sans is of the Devil.
Younger readers enjoy stories that are clear and concise.
Cardboard characters lead to cardstock rejection letters.
Never forget that you're writing for someone else.
Comics/Manga
We are pleased to announce Alina Wahab will be our comic artist for the next year!
We are therefore not currently in the market for a comic artist.
Art Guidelines
We want art! Art and pictures are what draws people into reading. Nothing more quickly establishes a vibe than a great piece of art. That's why bougie people pay so much for it.
Right now we need pictures of monsters. Grotesque, minimalist, large, small, gothic, modern, etc. We need options, because we're trying to establish a brand. Send us as many as you can.
Unfortunately, we're not the bougiest crowd (we're a little, though). Therefore, we cannot pay through the nose for great art. We want to, but cannot. However, we are very interested in paying a fair wage for your work. Therefore, we are willing to pay a $100 flat fee for all art work which is accepted. If you feel your piece is worth more, don't submit to us until we're more established and can pay you better.
One thing that makes us different – We will pay the same rate for black and white copy, as long as it's high quality.
Send us what you got! Make it scary, and we'll see if it fits our aesthetic.
New Talent
The Maul seeks to publish artists under the age of eighteen (considered a minor in the U.S.) on our website for free. We are willing to look at art and fiction, and if it meets our criteria, we will publish it.
Notes:
We do not pay for "New Talent" submissions for two reasons. First, we want to accept as many of them as possible. Second, it is difficult to create a contract for payment directly to a person under eighteen
The criteria for acceptance are – For fiction, it must be original, grammatically sound, creative, enjoyable to read, and over 100 words. For art, it must feature something from the speculative genre (horror, scifi, fantasy, etc), original, and it must be novel or inventive in some way.
"New Talent" will not be made available as an anthology, or printed for sale. We reserve the right to use images and quotes in any marketing and/or advertising.
That's everything. If you have a question, email us, or reach out to our Editor.
Good luck, and should the Lord take your soul before you wake, we hope it's someplace warm.
– Brian Rosten, Editor
Via: The Maul Magazine.
About the Author
Latest Posts
Stuart Conover is a father, husband, published author, blogger, geek, entrepreneur, horror fanatic, and runs a few websites including Horror Tree!