Taking Submissions: No Anesthetic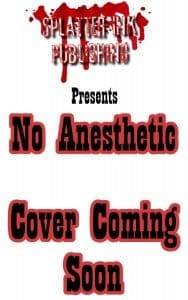 Deadline: March 1st, 2021
Payment: $25
Theme: Extreme Horror
Theme: Extreme Horror
No Reprints
Stories must be from 2,000-7,000 words
Submissions Deadline: March 1st
Payment: $25
What We Want
We want Extreme horror stories! Think Wrath James White, Edward Lee, Shane McKenzie, or J.F. Gonzalez. If you can write a story that will churn our stomachs or make us fear what's behind the shower curtain, send it in and we'll read it and decide if it is Extreme enough for our anthology. We are looking for 8-10 horror stories in the same vein as the aforementioned authors above.
Email us at [email protected]m with your submission. Your submission must be 12 point font, new times roman, double spaced and sent as doc or docx. When you send out the email, make sure to put "no anesthetic" submission, title of your story, and your author name in subject line.
Links to our website and social media
Website: https://authornicholasgray.wixsite.com/sipublishing
Facebook: https://www.facebook.com/SplatterInkPublishing
Instagram: Splatter Ink Publishing (@splatter_ink_publishing)
We don't want to promise a specific time we'll contact you back regarding your submission, but depending on how many emails we receive, allow us at least four to eight weeks to contact you back with a decision letter.
About the Author
Latest Posts
Stuart Conover is a father, husband, published author, blogger, geek, entrepreneur, horror fanatic, and runs a few websites including Horror Tree!