Taking Submissions: Enchanted Conversation: April 2019 Issue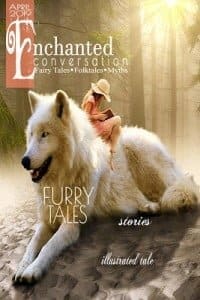 Deadline: March 28th, 2019
Payment: $10
Submissions now OPEN
for the April Issue
Theme: ANIMALS
Enchanted Conversation is looking for stories and sequential art (aka comics) that use animals as main characters or that operate as a catalyst to the story in a fairy tale, folktale, or mythic setting. Work can either be re-tellings of established stories or use original characters as long as they are set within the fairy tale, folklore, or mythic templates.
Animals in folklore, fairy tales, and myths have helped humans, tricked them for their own purposes or provided inspiration for a hero/heroine to achieve their goals. Think of Puss in Boots, The Nightingale, The Bremen Town Musicians, The Firebird, and beyond. Be bold, traditional, lyrical, or experimental in your storytelling and enchant us with your original stories set in a variety of locations around the world and time periods from ancient to modern.
Think beyond palaces, princes, and princesses in their usual context. Take readers on a journey to long ago Japan, an enchanted forest in Russia, or magical root bridges in India – where the stage is set for animal-characters to tell their unique tales.
WE'RE LOOKING FOR
STORIES between 700-2000 words with our sweet spot being around 1,200 words. Payment flat rate: $10.00 U.S. dollars only
The upper limit 2,000 word count is FIRM. Stories over 2,000 words will not be considered.
SEQUENTIAL ART/COMICS: 1 to 5 pages in length. Payment flat rate $10.00 U.S. dollars only.
PAYMENT WILL BE MADE THROUGH PAYPAL ONLY
At the time of contract, authors will have the option of donating the token payment back to the magazine to help keep us running.
Absolutely none of the following: Sci-fi, dystopian, erotica, high fantasy, excessive world building, time-travel, futuristic or space travel.
We are NOT ACCEPTING POETRY for this issue.
We're accepting only previously unpublished work.
Only one work per writer per submission period.
Simultaneous submissions are fine.
Enchanted Conversation is buying first electronic rights with the possibility of using the work in a future print compilation. Authors retain the right to decline being in the print compilation if they so choose.
Authors also grant EC the nonexclusive right to archive their story on our website in perpetuity or until such time as we choose to remove it.
Once the story is published on the site, authors and artists are free to shop it elsewhere.
Copyright will always remain with the author or artist.
HOW TO SUBMIT
Email all submissions to [email protected]
Subject line of the email should be: APRIL ISSUE 2019 – your last name – title of your work. Example: APRIL ISSUE 2019 – Jones – "Story Title"
A brief cover letter with the approximate word count of the story.
Also provide a short (100 word max) author's bio in third person and up to three links to the website or social media accounts that you would like to promote professionally if your story is chosen. These links are used to promote you as a writer via our website. We do not check out the accounts as part of the decision making process for the issue.
Do not summarize your story in the cover letter.
A PAYPAL ADDRESS must be included in the email. Without one, work will not be considered.
Paste all submissions into the body of your email. ATTACHMENTS WILL NOT BE OPENED. We're not kidding. Your email will be DELETED, UNREAD, if there is an attachment.
Formatting for all stories: Single spacing. No indents on paragraphs. Double space between paragraphs. Use Arial as the font. Try to use American English word forms and punctuation.
For comics: Insert images in the email in low-res jpeg format. 1-5 pages.
You will get a confirmation email that your work has been received.
No editorial feedback will be given on submissions.
AUTHORS who were published in previous issues are asked to wait 6 months (from the date of their issue) before they submit again.

NOTIFICATION OF ACCEPTANCE
Non-acceptance emails will not be sent out.
The names of the authors whose works are chosen will be posted on the Enchanted Conversation website on MARCH 28, 2019 for the April Issue.
Via: Enchanted Conversation.
About the Author
Latest Posts
Stuart Conover is a father, husband, published author, blogger, geek, entrepreneur, horror fanatic, and runs a few websites including Horror Tree!