Haunt Publishing Is Open To Novels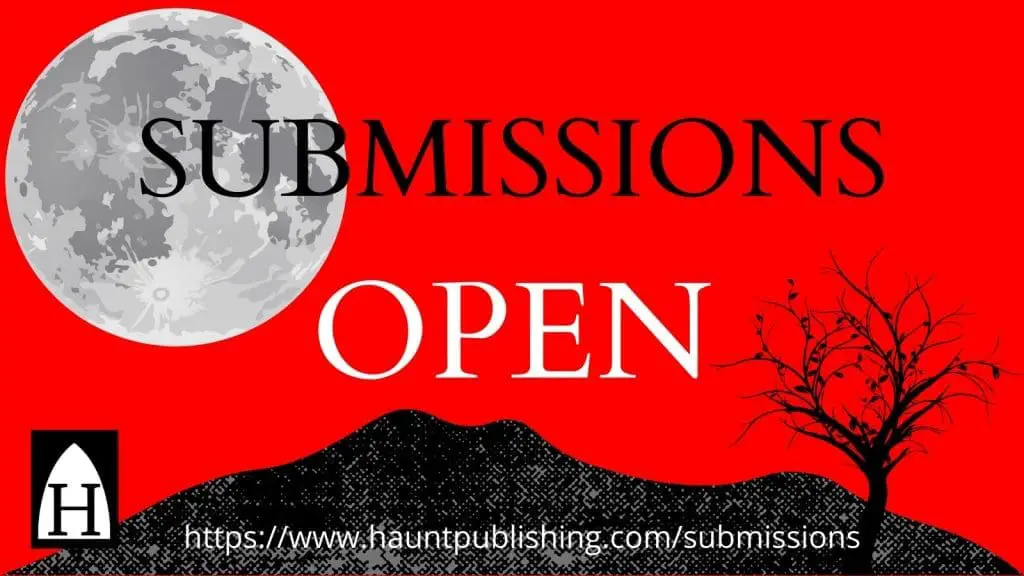 Deadline: June 30th, 2022
Payment: £200 and 15% royalty rate on print sales, 50% on audiobook and ebook sales.
Theme: Gothic, horror, and dark fiction genres (read below for more details.)
Closing date: Friday 1st July @ noon BST
The below guidance is in place for transparency about our submissions process.
Information About the Publishing Process.
We are a book publisher and welcome submissions from both agented authors and those without agents. Please see these guidelines for an idea of what we are looking for.
Our aim
Haunt is a small press dedicated to Gothic, horror and dark fiction. Our aim is to shine a flickering candle on Gothic and horror in new areas. Think Frankenstein in Baghdad and the film Under the Shadow. We also love traditional Gothic!
If this sounds like it fits with your writing, we want to hear from you!
Genres we publish in
We are looking for books in the Gothic, horror and dark fiction genres. We particularly look for work that is engaged in some way with Gothic preoccupations, such as doubling, decay, occultism, supernatural monsters or beings, hauntings, the blurring between reality and the supernatural, or death.
To give an idea of our book tastes, here are some books we love:
Beloved by Toni Morrison

Frankenstein by Mary Shelley

The Girls by Emma Cline

The Vegetarian by Han Kang

Tender is the Flesh by Augustina Bazterrica

Tell Me I'm Worthless by Alison Rumfitt

Frankenstein in Baghdad by Ahmed Saadawi

Her Body and Other Parties by Carmen Maria Machado

Things We Say In The Dark by Kirsty Logan
What we are looking for
We want books with the curse of unputdownability, that keep a reader up all night. Books that provoke unease, terror and dread. Basically, we want books that haunt readers long after consuming them. If this sounds like your book, send it our way!
All books should be completed, or near completion, as we don't currently consider pitches.
We are currently looking for:
We are not currently looking for:
short story collections

novellas

poetry collections

anthology pitches

nonfiction

children's books.
How to submit
Email Rebecca at [email protected] and attach (as word docs or PDF files):
A one-page covering letter that includes an author biography, a short pitch about the book (100-ish words), and the word count.

A 1,000-ish word synopsis that details the complete plot of your book, including twists and ending (don't leave us hanging!).

Either the first three chapters or 10,000 words of your typescript (title page too, please!).

Please format your email subject line as: SUBMISSION: Title (Novel)
Contract Terms
Each signed author will receive a £200 fee in recognition of the work they have put into the book so far (we realise this is merely a token amount, but we hope to set a precedent where the authors earn more). This means authors will earn royalties on their book sales straight away.

Novels: exclusive right to produce, distribute, promote, publish and sell the work in the English language worldwide in volume, ebook and audio formats.

Story story collections/poetry collections/anthologies: non-exclusive right to produce, distribute, promote, publish and sell the work in the English language worldwide in volume, ebook and audio formats (so you can continue to publish and make money from your short stories elsewhere, from 12 months after publication).

15% royalty rate on print sales, 50% on audiobook and ebook sales.
Extra Notes
There is no set word count but between 60-120,000 words would be ideal.

We particularly welcome submissions from the BIPOC and LGBTQIA+ communities as well as from people with disabilities and those from low-income backgrounds.

We are looking to commission 1–2 new titles for 2023.

We will publish in paperback, ebook and potentially audiobook.

If we want to read more, we will request the full manuscript from you. This doesn't guarantee publication, but shows we think your work might be suitable for us.

We aim to get back to everyone within six weeks after the submission deadline.

Find out more about the Haunt publishing process.
Via: Haunt Publishing.
About the Author
Latest Posts
Stuart Conover is a father, husband, published author, blogger, geek, entrepreneur, horror fanatic, and runs a few websites including Horror Tree!