Epeolatry Book Review: Timeless Trinity by Bruce Olav Solheim, Ph.D


Disclosure:
Our reviews may contain affiliate links. If you purchase something through the links in this article we may receive a small commission or referral fee. This happens without any additional cost to you.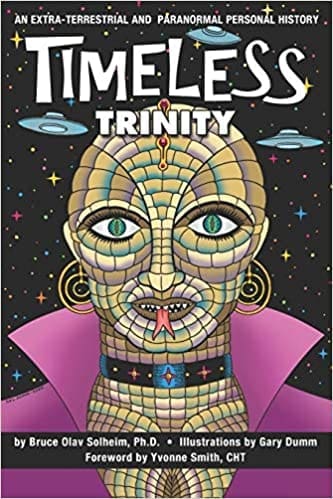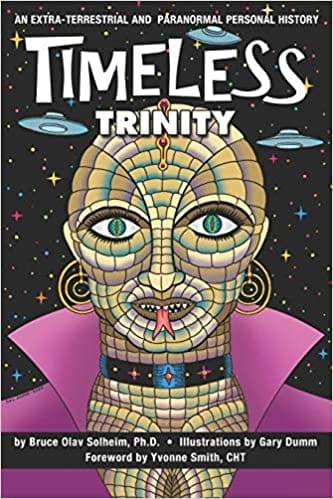 Title: Timeless Trinity: An Extra-Terrestrial and Paranormal History
Author: Bruce Olav Solheim, Ph.D
Genre: UFOs, Supernaturalism
Publisher: Boots to Books
Release Date: 21st Feb, 2020
Synopsis: Timeless Trinity is the completion of Solheim's paranormal trilogy of true stories. Trinity goes beyond the first two Timeless books as it details the authors continuing contact with Anzar, an ancient alien mystic, UFO sightings, alien abductions, animal spirits, ghosts, hauntings, demons, an encounter with the infamous original American mass murderer Dr. H.H. Holmes, and concludes that the spirit world, the alien world, and the quantum world are all the same. Dr. Solheim's Timeless Trinity is a personal glimpse into a truly paranormal life. Gary Dumm again provides the illustrations and world renowned hypnotherapist Yvonne Smith provides a foreword.
"The paranormal is normal and the supernatural is natural."  Timeless Trinity, the third in a series of books that share Dr. Solheim's lifelong paranormal adventures, reads as if the paranormal is perfectly legitimate and not up for debate.  He speaks my language.
Telepathy, clairvoyance, ghost encounters, hauntings, spirit walks, quantum worlds, UFO's – all are represented in this book, raw and uncut.  It flows like a novel with the main character's other worldly experiences morphing him into who he is.  Even if it were fiction, I would suspect that at least some of the incidents happened to the author.  By page 5, I was eager to read the other two Timeless books.
I relished the astounding details of the author's hypnosis sessions with world-renowned hypnotherapist, Yvonne Smith.  We're piloted through multiple alien abductions.  While I read about these creatures and wondered whether they were benevolent, a feeling of helplessness settled into my core.  Telepathic communication, high voltage currency coursing through his body, paralysis, questioning "why" and being told, "You don't need to know."  Though I was apprehensive to read on, I couldn't stop.
The majority of Timeless Trinity focuses on UFO's and aliens, aliens who are some of the author's Spirit Guides.  He is endowed with psychic abilities.  Perhaps we all are, until we advance past toddlerism, and then prejudice and judgement eventually close our minds.  The logical world impresses upon us that there are no such things as ghosts, and so on and so forth…  
As a society, we're led to believe that only those psychically gifted persons who have made it to the televised limelight, or have become larger-than-life personalities on the internet, are the only ones able to communicate with spirits.  "There is no reason to fear death because we're timeless," Solheim writes.  A truth I believe.
Some chapters veered into witchcraft, the California State Military Reserve, and school shootings.  I was in full throttle UFO mode at that point in the book. Then the UFO's were gone for a couple chapters (save for an occasional quick-hit mention).  Darn it!  If the purpose of those chapters was to provide insight into Solheim's experiences, it wasn't needed.
A few asides strayed from UFO and psychic experiences, but it made for interesting trivia, like the research on cat and dog behaviors, and that of cat people and dog people.  His passage in the Sajajid chapter gave me pause as he reflected on his military experience—he got me thinking how modern culture continues its decline into desensitization.  The "Snake Eyes" chapter freaked me out.
I thoroughly appreciated Solheim's thoughts on what he calls "historical amnesia" in the "Thinking in Time" chapter, as well as his unbiased references to George Orwell's novel, 1984.  He opines to the masses on the sensical truth in honoring history—the good and the bad—with a warning that "…we must be careful using history because we can't impose our thinking and beliefs on those in the past, for they lived under a different set of circumstances and a foundation of existence unique to their time." 
Solheim's experiences illuminate his Big Picture; he imparts this timeless wisdom to his readers.  Somewhere between complacency and panic is a good place to be, according to him.  I was there as I read Timeless Trinity.  Well worth my time.
About the Author
Latest Posts
Brenda Tadych is a Pennsylvania native and graduate of Harrisburg Area Community College. She has been a contributing writer with the Press and Journal publication, Dauphin County Woman since 2011 when she began writing seriously, quite by accident. In addition, her articles have appeared in The Patriot-News, Hummelstown Sun, and Wisdom-Magazine.com. She was a participant in the Perry County Council of the Arts programs, "A Novel Idea" and "Critique 101." One of her short stories was published in the anthology, Strange Magic. An installment with a supernatural twist can be found in the serial novella, The Blue, the Gray, and the Red.
She credits black and white classic monster movies with cultivating her excitement in horror, and the 1970's for enriching it with "The Exorcist," "Halloween," and that guy who introduced her to characters like Carrie White, Mr. Barlow, and Jack Torrance.
Her Dauphin County Woman columns can be found at womannewspapers.com. For a journey into her random world, visit her blog at brendasumthin2say.blogspot.com. She can also be contacted at [email protected].