Epeolatry Book Review: The Rookery by Deborah Hewitt


Disclosure:
Our reviews may contain affiliate links. If you purchase something through the links in this article we may receive a small commission or referral fee. This happens without any additional cost to you.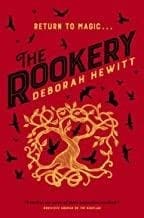 Title: The Rookery
Author: Deborah Hewitt
Genre: Contemporary Fantasy
Publisher: Tor Books
Release Date: 1oth August, 2021
Synopsis:
Follow Alice Wyndham into the Rookery, a magical alternate-London created to safely harbor those with magical abilities – or so Alice believes. Alice is an aviarist, someone who can see people's souls in the form of birds, called nightjars. She has also inherited the magical gifts of Mielikki, the goddess of nature. But Alice's powers have a dark side; she hopes that, by learning to master her other gifts, she'll be able to quell the deadly magic which threatens her very existence. 
It's not until Alice becomes the victim of a series of unexpected, seemingly inexplicable attacks that she realizes she's not the only one in trouble. The Summer Tree, the linchpin of this world, is growing, and the Rookery begins crumbling around her. All her hopes and plans are thrown into disarray, and Alice discovers that, instead of running from it, she must embrace her deadly soul to save the people and place she loves – before their entire world falls apart.  
The Rookery is a darkly magical contemporary fantasy set a year after the events of The Nightjar, the first book in this duology. Like several other reviewers have noted, I didn't realize that The Rookery was the second in a series, but that didn't stop me from absolutely loving this book. In fact, the beginning of the story reiterates the events that led Alice to this point. For those who have read The Nightjar, this might feel a bit redundant; but for someone who accidentally read The Rookery first, the summary helped me get into the story quickly. 
The characters, the worldbuilding, the magic system: each element works together so well and creates such a rich, compelling narrative that I truly couldn't put the book down. Hewitt draws on Finnish myth to build an interesting, complex magic system unlike any I've encountered before. The Rookery brims with life, lore, and history of its own; each turn of the page brings something new to discover, a new character to meet. The book left me amazed at the depth of the author's imagination. 
Alice is the kind of heroine I love to read about. She's flawed but clever, loving but brutal when she needs to be, and she really develops on the page. I appreciate that the minor characters have lives and stories of their own, too; they're not just devices to move forward Alice's agenda. Many readers will love the slow burn between Alice and Crowley, but the most interesting and complex relationship in the book, for me, is between Alice and Tuoni. Hewitt masterfully navigates all sorts of relationships – romantic, familial, friendships – making the characters themselves feel so much more real.
While The Rookery is quite firmly fantasy with a bit of romance mixed in, there are some truly horrific scenes in the book, too, which will appeal to readers with a taste for the genre's darker side. The result of Holly's membership test, for example, was so surprising, and so gruesome, that it shocked me. I just didn't expect that level of brutality from the book, or the suddenness of it, which made the world that much more realistic and gave the magic system a cold, unforgiving logic. 
Finally, Hewitt's writing is top notch, crafting a compulsively readable story. She tightly maps an action-packed tale full of twists, turns, and artfully plotted subtext that provides a highly satisfying pay off at the end. Ultimately, she has created a story and a world that never fails to feel real – one might think it possible to peel back the layers of this world, and step through into the Rookery. 
Star Rating: 5/5
About the Author
Latest Posts
B. A. Kockaya writes horror and Gothic stories. She is currently working on her first novel, a feminist retelling of Beowulf with horror elements. Originally from Buffalo, NY, she lives here and there with her husband and son.
You can also follow B.A. on Instagram at @totsbels!