Chaos in Milan Blog Tour: Character Arc Over Several Novels—Grow or Die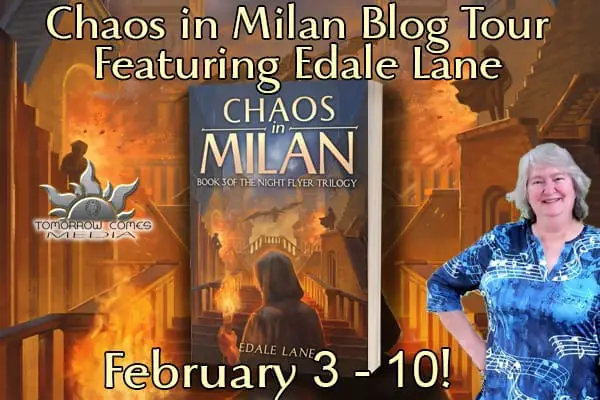 Character Arc over several novels—Grow or Die
By: Edale Lane
Like a plant, you're either growing or dying. This is also true of the characters in the worlds we create through fiction literature. One factor I always kept in mind while writing the Night Flyer Trilogy was to show growth in my primary characters as well as in their relationships. Of all the players on my stage, Don Benetto Viscardi underwent the greatest transformation. 
In Merchants of Milan, Don Benetto first appears as a ruthless Mafia type boss who has gained wealth and prominence as an arms dealer. While he runs a legitimate company, he is not above lying, cheating, and engaging in unscrupulous business practices. However, those you dare cross or cheat him are likely to end up dead. Ambition and greed, along with the manner in which his father raised him, led him to believe this was the only way to succeed. He treats his wife with callous indifference, his son is off to university, and he has forbidden his daughter to speak to the young man she has fallen in love with because he dislikes the boy's father. He also made the mistake of killing Luigi de Bossi, an inventor he thinks double-crossed him but was actually innocent. 
This act unleashes the inventor's daughter, Florentina, who takes up the traditional Italian vendetta to enact vigilante justice on the perpetrator. Don Benetto is surprised when the mysterious Night Flyer attacks his merchandise caravans and robs him of large sums of gold because he was certain de Bossi had no sons. He gets angrier and angrier as his business is systematically destroyed, striking out in frustration as everyone around him. His role in book one climaxes with the Night Flyer burning his warehouses and mansion to the ground, but "he" stops short of taking Benetto's life. Instead, the Night Flyer puts a scar on his chin and says to let that remind him that he was given a second chance. 
Secrets of Milan opens with Benetto and his family having moved to his vineyard in the countryside, the only property he still owns. He is angry and insulted to have lost his fortune and is forced to live in an old country manor house, but it is Christmas and his wife, daughter, and brother want to celebrate. His son comes home only to chew him out and leave, and his brother states the obvious—that he only cares about himself—and then he leaves to find alternative employment and place to live. Benetto worries that his wife and daughter will abandon him too, and he will have nothing and nobody. 
Considering the Night Flyer's words that he is being given a second chance, Benetto reflects on his life and how his actions may have led to his current situation. He observes that his wife and daughter and moving on with their lives, making the best of things, and decides he much change or die alone as a bitter old man. So he makes a point of trying to treat them better and while not encouraging it, allows his daughter to correspond by letter with Antonio, the young man she wishes to marry, who is away with the army. When this book ends, he has reconnected with his wife only to discover that she is suffering from a condition (lead poisoning) which the doctors cannot identify and have no cure for. 
When Chaos in Milan opens, Benetto is devastated over the news of his wife's illness, but because he needs her and doesn't want to be left alone. He still struggles with his inner demons but is more determined than ever to become a better father, husband, and human being. But change is hard. Because the Night Flyer had salted the soil at the vineyard, he can't produce eatable grapes, much less wine. But sudden inspiration gives him the idea of using what grapes he has for vinegar. Having renewed hope and purpose he begins to see a future for the vineyard and for himself. Can he stay on the path to redemption, or will his old nature win out? At the end of his arc, Antonio returns from war a mature and fearless man to claim his bride one way or another. But Benetto hates Antonio's father and doesn't want to lose his daughter now that they have repaired their relationship. Will he agree to the marriage or take on the young man in a duel? Will he ever come to love his wife? Will he ever be able to love himself? 
If I tell you how his part in the story ends, it may ruin the experience for you as you read Chaos in Milan. Don Benetto started out as a villain, and he may never become a saint. But a near death encounter and hitting rock bottom can be a catalyst for change. The truth is that people can change; they just usually don't. Habits, ways of thinking, feeling, and acting become ingrown in one's personality and it requires deliberate thought and a strong desire to change. Change is hard, but it is possible. To me, Benetto's struggle to become a better man represents an important theme in the trilogy and one that most of us can relate to on some level.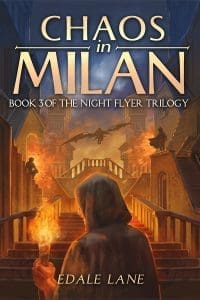 Book Synopsis for Chaos in Milan:  
One woman stands between chaos and order – the Night Flyer.
When chaos strikes at the heart of Milan, it is up to Florentina's alter-ego the Night Flyer to stop it. As Florentina and Madelena's love deepens, so does the well of danger surrounding them. The race is on to discover the mysterious Shadow Guild and uncover who is behind the deadly rampage, but Florentina's mission is threatened by a gang of assassins. Can the Night Flyer prevail, or will Maddie's love be ripped from her arms?
Chaos in Milan is the third book in Edale Lane's Night Flyer Trilogy, a tale of power, passion, and payback in Renaissance Italy. If you like action and suspense, rich historical background, three-dimensional characters, and a sweet romance, then you'll want to complete the Night Flyer saga.
Tour Schedule and Activities
2/3 The Literary Underworld http://www.literaryunderworld.com Guest Post
2/3 Jazzy Book Reviews https://bookreviewsbyjasmine.blogspot.com/ Author Interview 
2/4 The Sinister Scribblings of Sarah E Glenn http://saraheglenn.blogspot.com/ Guest Post
2/5 Kim Smith, Author http://Kimsmithauthor.com/weblog Guest Post
2/5 Oohana Children's Church http://www.oohanacc.wordpress.com Video – Interview Response
2/6 Horror Tree https://www.horrortree.com Guest Post
2/7 The Seventh Star Blog http://www.theseventhstarblog.com Guest Post 
2/8 Jorie Loves A Story http://www.jorielovesastory.com Review
2/9 Afshan Hashmi https://afshanhashmi.com/books-coming-to-me-from-book-tour-hosts-for-my-analysis Guest Post
2/10 Sapphyria's Books https://saphsbooks.blogspot.com/ Guest Post
Tour Page URL:  https://www.tomorrowcomesmedia.com/chaos-in-milan-blog-tour-featuring-edale-lane/
Links for Chaos in Milan:
Kindle Version: https://www.amazon.com/Chaos-Milan-Three-Night-Trilogy-ebook/dp/B08Q7H6DFX/
Amazon Print Version:  https://www.amazon.com/Chaos-Milan-Three-Night-Trilogy/dp/B08PXK13B3/
Barnes and Noble Link: https://www.barnesandnoble.com/w/merchants-of-milan-edale-lane/1136051210?ean=9781654780197
Edale Lane
Author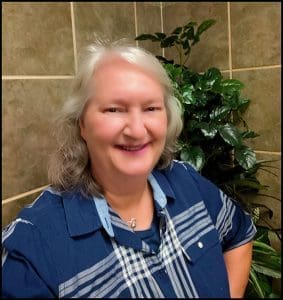 Edale Lane is the author of an award winning 2019 debut novel, Heart of Sherwood. She is the alter-ego of author Melodie Romeo, (Vlad a Novel, Terror in Time, and others) who founded Past and Prologue Press. Both identities are qualified to write historical fiction by virtue of an MA in History and 24 years spent as a teacher, along with skill and dedication in regard to research. She is a successful author who also currently drives a tractor-trailer across the United States. A native of Vicksburg, MS, Edale (or Melodie as the case may be) is also a musician who loves animals, gardening, and nature. Please visit her website at:    https://pastandprologuepress.lpages.co/
Author Links: 
Twitter:   @EdaleLane
Official Site:  https://pastandprologuepress.lpages.co/
About the Author
Latest Posts
Stuart Conover is a father, husband, published author, blogger, geek, entrepreneur, horror fanatic, and runs a few websites including Horror Tree!