Disclosure:
Our reviews may contain affiliate links. If you purchase something through the links in this article we may receive a small commission or referral fee. This happens without any additional cost to you.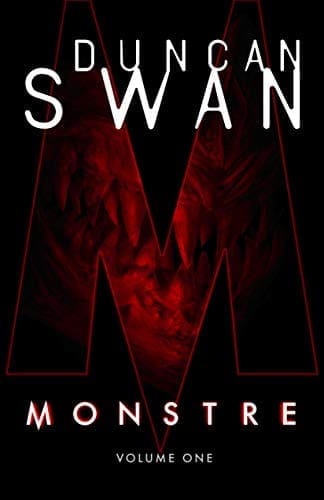 Title: Monstre: Volume 1
Author: Duncan Swan
Genre: Horror
Publisher: Super Hoot Publishing
Release Date: 20th September, 2020
Synopsis:  THERE IS NO STOPPING IT.
THE CLOUD IS ARMAGEDDON, STEAMROLLING THE WORLD AT A WALKING PACE.
Day 0. From the wreckage of a research facility in Switzerland, a plume of toxic smoke and ash pours into the sky, forming an impenetrable cloud that is slowly smothering the world in darkness. As Europe disappears beneath the Cloud, a squad of United States marines are sent on a desperate mission to find out what went wrong, and how to undo it before it's too late. Venturing into a cold, dark world, the marines must travel deep under the Cloud, with no comms, no backup, and no idea of what they will face.
Monstre Volume 1 is a tight and suspenseful novel about the end of the world. The story begins at Hadron Collider, located at the CERN facility, and it has brought something into our world.  A cloud from the research facility's wreckage begins to ooze across Europe. In the United States, a Marine squad is sent to find out what the hell is going on and how to stop it before it's too late.
Monstre has a big cast of characters, and Swan devoted each chapter to telling their stories. From the scientist, to the Marines, to the old Tennessee Sheriff who helps a family escape west, to a rumored nuclear bunker that may be their only hope for survival. Swan's chapter breaks and cliff hangers enticed me to keep turning the pages. 
As any novel within the Lovecraftian vein, Swan does a good job balancing horror, fantasy, and science fiction elements. Even before starting to read, I was drawn in by the cover's horrific image and the blackened page borders, which gave the book a sinister feel. The French spelling "Monstre" imparts an indie film quality; I can see this tale as a European Netflix series.
This book will draw comparisons to Stephen King's, The Mist. King focused on a group of survivors in a grocery store, while Swan points the camera on a worldwide view of what survivors and the military would do in a situation like this.  
People who relish Lovecraftian style writing, with an added touch of Stephen King and Tom Clancy, will enjoy this account by Swan. I gave it 4 out of 5 stars.
This is Duncan Swan's debut novel. Swan was born in South Africa, raised in Australia, and now resides in L.A. with his wife and child.