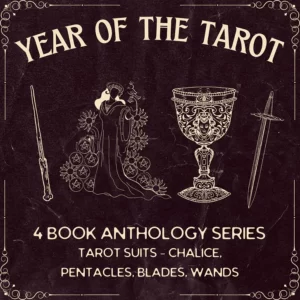 Submission Window: June 1st – 30th, 2023
Payment: 1 cent CAD per word
Theme: Horror inspired by the Tarot: Pentacles
Welcome to our four-book series, dedicated to horror inspired by the Tarot. 
Does the story have to be about Tarot Cards… NO. Think cups, knives, wands, and pentacles. We are looking for the theme to be the element, not necessarily the card itself, although we would love to read that as well. 
Chalice – Pentacles – Blades – Wands
​
**Patron Members get an extended submission window**
​
March 1- 31: Chalice  (Patron dates Feb 21 – April 7)
June 1- 30: Pentacles (Patron dates May 23 – July 7)
Sept 1- 30: Blades/Swords  (Patron dates August 24 – October 7)
Dec 1- 31: Wands (Patron dates November 23 – January 7)
​
​
Each book will have an overriding theme of a Tarot suit and be between 50k – 60k words in length. They will be stand-alone books but will make up a four-book series.
​